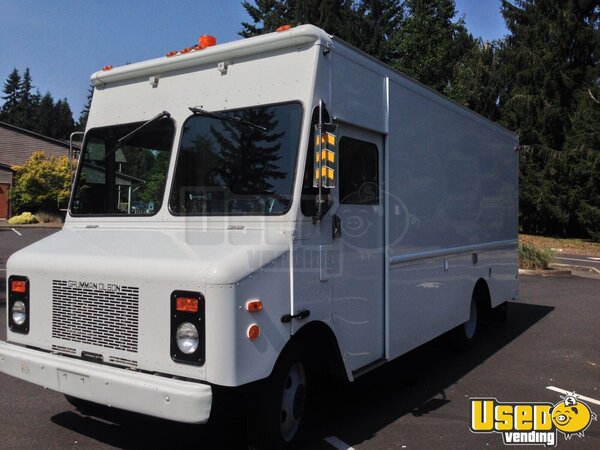 Chevy Grumman P30 Retail or Food Truck for Sale in Washington!!!
For sale in Washington, this is a

1998 16' Chevrolet Grumman Olson truck that would be perfect for your mobile business, or perfect for conversion to food or coffee service. Has 67k miles on its engine. Has plumbing and sink already, generator, and more. See details.


$23,980. Washington
More info...
This retail truck has an automatic transmission. The paint is in very good condition, very clean from inside out. Low mileage.
Specifications:
Tires: 8 R 19.5
Engine: 5.7L V8
Mileage: 69,329
Generator: Emerald plus Onan 6500 GenSet - Can run two A/Cs with power to spare - Capped Voltage Regulator for Stability as Appliance Load Changes - Electronic Ignition 12 V, battery ignition with resistor plugs, for Reduced Maintenance and Dependable Cold Weather Starting - Gasoline or LP Fueled
- Vacu-Flo cooling system plus Thru Flow generator
- 3-point focalized mounting system with vibration isolators
- 4-Cycle, L-head, two cylinders horizontally opposed
- Compression Ratio: 7 to 1
- Maximum Power at 60Hz: NHE (gasoline) € 14 bhp (10.4 kW)
Air Conditioner: Coleman TSR - Nominal cooling capacity: 3.9Kw - Max cooling amperage: 6.2 amps - Nominal Heating output: 1.6Kw (heater element) - Max Heating amperage: 7.5 amps - Voltage: 240v, 50Hz Vent: celling air ventilation Heating: electric in the wall
Sink: 1 small sink / Fresh Water tanks: 42 gallons Grey Water tank: 32 gallons
Cabinets/counters: 2 upper cabinets, 2 down cabinets with wood counter
Refrigerator: 1 small refrigerator
Microwave: Sharp Carousel
Lights: 3 Fluorescent lights
Walls: Insulated
---
Equipment List
Transmission - Automatic
Passenger Seat
Air Conditioning
Gas Engine
Hot Water Heater
Hand-washing Sink
Refrigerator
Generator
Fresh Water Tank
Gray Water Tank
Work Table
Water Tank
Cabinets
Insulated Walls
Floor Drains
---