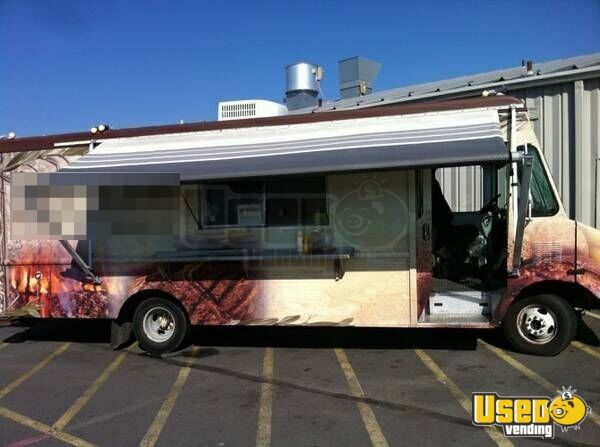 Turnkey Chevy Food Truck for Sale in Arkansas!!!
Used Chevy P30 food truck in Arkansas. This 24' x 7.5' 1987 truck is in like new condition. It has a rebuilt 5.8L V8 gas engine with automatic transmission and has 40,000 miles on it. This is a turnkey business with all permits current. See details for info on equipment.

*Motivated Seller - Reasonable Offers Welcome*



PRICE REDUCTION!

Originally: $38,500

NOW: $32,890 in Arkansas
More info...
INCLUDES :
- Two refrigerators
- Four burner stove
- Deep fryer
- 3' Griddle
- Microwave
- 3 Compartment Sink
- Hand Washing Sink
- 30 amp Generac Generator
- 8 ft industrial vent hood
- Ice Bin
- (1) 20 lb Propane Tank mounted
- (1) 10 lb Portable Tank included
- 20 gallon fresh water tank
- 25 gallon grey water tank
- All kinds of Electrical Cord required for hooking up fairs, etc
*He also has a griddle w/ a large oven that you can use in your home or outside. It was in the truck at one point, but is really heavy and can cause issues inside the truck.
---
Equipment List
Transmission - Automatic
Gas Engine
Triple Sink
Refrigerator
Generator
Fryers
---
Prior Equipment Questions...
Is there a three tub sink?
Yes, vehicle is equipped with 3 compartment sink and hand washing sink
Is there a generator?
Yes,
30amps generator is included
Is there fire suppression?
No,
I don't believe that is a requirement for food trucks. Simple fire extinguisher will be sufficient ( at least in a state if Arkansas)
What are the height restrictions? My husband is 6ft, 3 inches, And, could you provide the overall truck specs including length and width? Thanks
I'm 6.4 ft tall, and I was very comfortable working in it. Vehicle is 25 ft long and just regular width , like larger trucks
Have there been any repairs done to this truck since it was converted?
Truck have a new springs on rear axle , newer gril and went hood.
Is there a history of repairs done to the truck?
No, I have no issues with the truck.
Is there an inspection report of the truck and it's internal components for health code?
Truck is up to the code in a state of Arkansas. License will be easy to obtain. We have not experience any problems with health dept. in a past five years.
Where is this vehicle located?
What size exhaust hood does this truck have?
7 ft stainless steel commercial hood
Have Questions? Have Questions about this item, its condition or features?