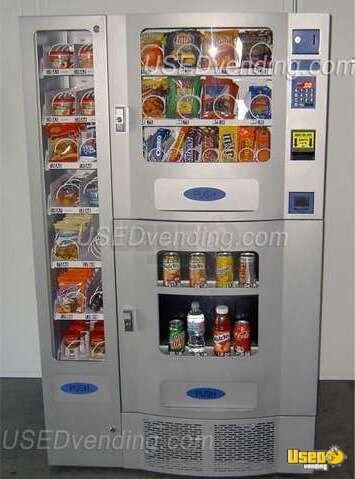 (3) - 2009 Planet Antares / Purco Corp. Office Deli Electrical Snack, Drink, & Entree Vending Machines - Located!!!
SOLD

Machines have 38 selections of snack, soda, & entrees. Seller is original owner; machines were in use for 7 months and are like new. The machines are currently on locations in Scottsdale and Phoenix. Seller may keep the locations or move. Be sure to see the details for features and machine specs.
WAS: $12,800

NOW: $10,800 for ALL or $3,600 each Scottsdale, Arizona.


SOLD





Machine Minimums / Shipping Limitations


More info...
The streamlined design is the perfect compliment to the modern business lunch/break room, and the features include 43" width, 70"height, and 29" deep, taking up less room than multiple machines. The units use less electricity, accept $1 and $5 dollar bills, with a total of 38 item options.
The location can select the items placed in the units and provide the convenience of beverages, snacks, candy, nuts, and microwavable items for customer choices. A true convenience. All the machines are maintained on a weekly basis, and operating well.
DETAILS:


The Purco Office Deli is the newest addition to the Antares line of quality vending machine products.

Product Specs:

Entree Unit: 14 entree selections; 68 entree capacity
Snack Unit: 16 snack selections; 160 snack capacity
Drink Unit 8 drink selections; 126 drink capacity (cans, bottles, Red Bull)
Has JCM Dollar Bill Validator, accepts $1 & $5 bills.
Removable cooling unit.

The Office Deli machine breaks down into 4 separate units.
Assembled, it is 69.5 in high, 42.4 in wide, 28.5 in deep, 621 lbs.
---