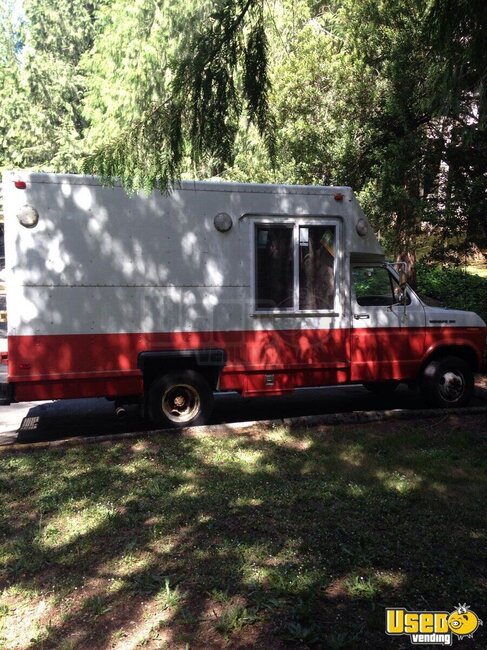 Ford E350 Food Truck for Sale in Oregon!!!
SOLD


Oregon food truck for sale. This is a 1987 Ford E 350 with 1

60k miles on its engine,

retired Red Cross food service truck ('Emergency Response Vehicle' or ERV) with automatic transmission. Used for hot meals and refrigerated food items, also blankets and other disaster service items. Truck measures
20ft 4in long, 9ft 4in tall, and 8ft wide
PRICE REDUCTION!
Originally: $16,480
NOW: $5,300 in Oregon
SOLD
More info...
This food truck for sale in Oregon is in clean, good running condition, two refigerators, three burner propane stove, propane tank, electrical hook up, storage cupboards, drawers, flood lights all around for night time vending. Also includes microwave. Just added a brand new 3,500 watt generator, new battery, new starter, and a new tempered glass sliding window. This truck is also furnished with fold out wall full size bed frame, and small plush chair.
---
Equipment List
Spare Tire
Removable Trailer Hitch
Refrigerator
Propane Tank
Work Table
Exhaust Hood
Exterior Lighting
Interior Lighting
Cabinets
Insulated Walls
---
Prior Equipment Questions...
What other issues does this vehicle have mechanically?
I took it in recently for an oil change, and the mechanic told me there was a small leak in the radiator hose.

UPDATE: Just wanted to give you an update on my truck the radiator hose has been replaced with a new hose and is ready for sale
How well does the truck run with that engine with 160,000 miles on it?
Honestly it starts right up and is a strong running vehicle. It might only have 60,000 miles I just had to estimate by the year. It wasn't used much for the Red Cross disaster relief and was kept in their storage garage most of the trucks life.
Are there any other issues with the truck that would need to be addressed by me?
Everything works on the truck. It has been well maintained.
Is this a diesel and how many miles are on the engine?
I checked into it and the truck only has 160k miles, and it runs on unleaded fuel only.
Are there any fresh and grey water tanks in the unit?
If yes,what are the dimensions? .
No there is not, however there is plenty of room to install a grey water tank. it wouldn't take much effort to add this feature, in fact that was one of the things I had planned on adding.