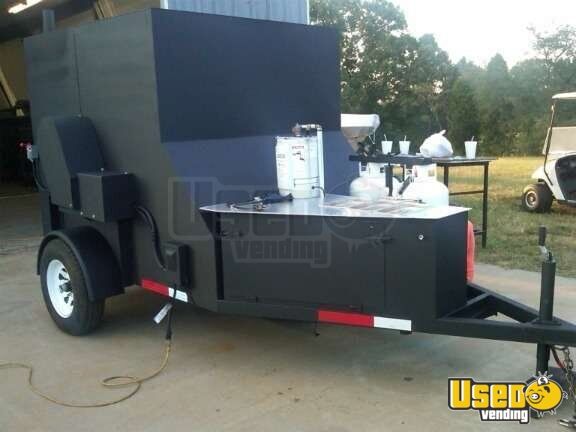 2010 Custom Commercial Corn Roaster!!!
SOLD

Use to sell roasted corn, baked sweet potatoes, BBQ, etc. Has 8 roasting trays and electric rotisserie. It is like new. See details for list of features and equipment.
WAS: $22,000.

NOW: $16,500. Shelby, North Carolina.
CLICK on "MORE DETAILS" for PICS & FEATURES!!!


SOLD



More info...
FEATURES:
13 x 7 foot Commercial Custom Built Corn Roaster & Business with two 40 lbs. and one 100 lb propane tanks, three part sinks, hot water pump, clean water holding tank, and dirty water holding tank. 3 tables with custom made table cloths and aprons. An assortment of spices and condiments, butter melting pot, warming box, tin foil sheets, paper towels, lights, and much more. Everything you need to start your business today! Rotisserie works with electricity not hand cranked.Can also be used for BBQ, Baked Potaoes, Sweet Potatoes, etc. Fun and profitable business.Turn key operation, All you need to add is the corn and the butter.
Roaster has 8 trays and will cook 200-250 or more ears of corn per 15-20 mins.Roaster heats up to 450 degrees. Has hot and cold running water. Roaster was built in Sept 2010 and used til the end of Nov 2010. Need to sell only because of illness. It is a fun and very profitable business that is in high demand at festivals etc.
---