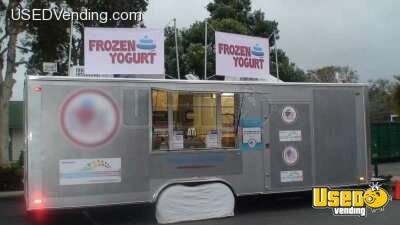 24' - 2008 Custom Carson Racer Soft-Serve Frozen Yogurt Concession Trailer!!!
SOLD



Was most recently used to sell soft serve frozen yogurt. It was used for 7 months and is in like new condition. Lots of features and equipment, see details for list.

$49,500. San Diego, California.

CLICK on "MORE INFO" for PICS & FEATURES!!!


SOLD
More info...
FEATURES:
2008 24ft. Custom Carson 10,000gvw RACER Model.
- Trailer is immaculate - LIKE NEW!!!
- Includes 3 compartment sink, hot water heater, WALK-IN 8' X4' refrigerator, hand sink, (2) brand new Taylor 794 soft-serve machines, high performance heavy duty ventilation (in-take/out-take) system, dual A/C units, outside lighting, 6x4 service window and a 4x3 back pop up window. Ample storage, cash drawer, storage racks and (2) prep tables (8x2 & 6x2) all included.

Additional Features:
- Undercarriage:
- (1) 40 gallon gas tank with gas line and pump - available if generator is ever mounted on trailer.
- (2) 50 gallon waste tanks.
- (1) 60 gallon fresh water tank.
- Tool box on tongue of trailer with ample storage, key and lock.
- Full size car battery (brand new) to run water and gas pumps.
- Custom banner poles and mounting brackets for advertising on top of trailer.
- (4) Stabilizing jacks.
- Trailer has metal sheeting added to aluminum frame to allow magnet decal or, may be much easier to custom wrap entire trailer.
*Trailer is HUD approved and Health Certified for San Diego and registered for life. This is a turn-key trailer ready to sell soft-serve frozen yogurt. Trailer has plenty of extra internal room in the event new owner wants to become the ultimate one-stop-shop dessert destination (i.e. more soft-serve machines, ice cream bars, funnel cake, shaved ice, smoothies, lemonade) OR trailer was previously built to code for Mexican food and already has exhaust hood and approved ventilation for such a business
Generator/Power:
- Shindaiwa powered by Kwiet 25kw with only 2200 hours looks and runs like new!!!
- 17 gallon tank inside generator
- Generator currently mounted in truck bed that pulls trailer. Custom Generator truck bed mounting bracket included…OR…you can put generator back on its new tandem towing trailer equipped with a custom 70 gallon gas tank. (Generator trailer and custom truck bed mounting bracket are both included with purchase of trailer).
Generator has a 4 prong 40ft. power cord that connects directly to custom trailer outlet.
*Trailer also has a custom 110 outlet in order to run the refrigeration unit when trailer is stored and not being used. This feature allows you to keep product cold between events without having to run generator.
---