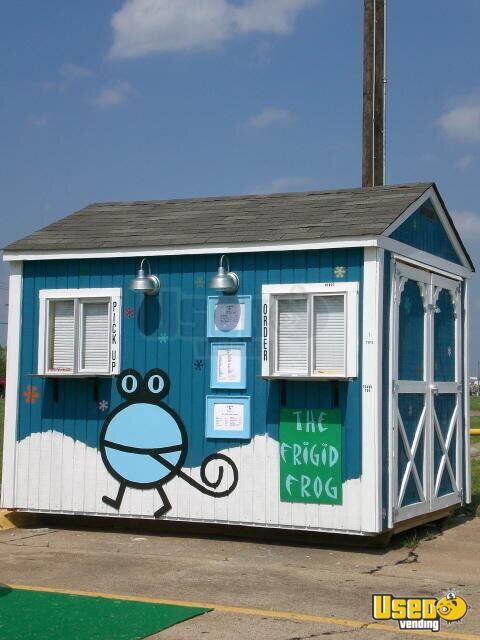 8 x 10 Complete Shaved Ice Business!!!
SOLD

For your consideration is a complete shaved ice business. This stand has been used for 2 1/2 years and is in great shape. It is not on wheels but can easily be mounted to a trailer. Seller's daughter has made enough with the stand to pay for college and is on her way to the dorm- so lots of potential with this business. Seller owned and operated this business in Granbury, TX for 4 years. Seller states that their average daily profit was about $400 per day.


The price is for the stand only. Buyer would be responsible for moving the stand to their location or we could arrange this for an additional fee.
This stand is currently associated with The Frigid Frog Shaved Ice Co. LLC. This company is in the process of forming a franchise. The Frigid Frog currently has 4 locations in the state of Texas, which have all began start up this year.
Buyer will have the option of keeping the stand a "Frigid Frog" for an additional fee. This fee will include:
-Operations manual for The Frigid Frog
-Training and Support in getting started in the business
-Consulting in the industry
-complete list of suppliers
-initial supply of marketing materials (t-shirts, wristbands, sign and menus, etc.)

NOW: $14,850. Austin, Texas.
CLICK on "MORE DETAILS" FEATURES & PICS!!!
SOLD


More info...
SOLD
-8 x 10 well insulated building that has an awesome mural painted on one side
-Snowizard brand ice shaver
-Full size refrigerator
-3 compartment sink
-2 serving windows
-window unit a/c
-plenty of shelves for quart bottles
-HUGE metal carport frame (metal missing) currently using mesh/net for shade
-Cash register
-Several flavor concentrates (best brands on the market)
-Mixing barrel to make your syrup (the only way it should be done)
-quart bottles and gallon jugs
SOLD
Call @ 601-749-8424 x 15
or Click on the "Request" link to E-mail for more information.
---