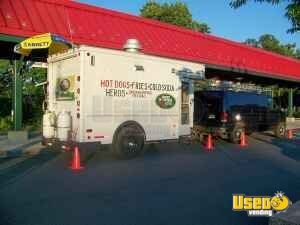 Food Concession Trailer!!!
SOLD

This is a large Grumman type box truck converted into trailer. It was manufactured in 2006 and was used for 5 months as a morning coffee service. Aluminum inside and outside walls; Service window, commercial hood with baffles and mushroom ventilator on roof. 220/110 breaker box with 4 circuits, cash register and many extras. Be sure to see the details.

Many More pics available upon request

Seller is a Little Negotiable on this price
WAS: $18,700

NOW: $13, 800 for ALL. Orange County, New York
SOLD


More info...
FEATURES:
(2) Stainless sinks with sprayer
(2) 40 lb. propane tanks
30 gal freshwater tank
39 gal waste tank
4 gal elect hot water heater
14 sq ft refridgerator/freezer
Gas deep fat fryer
Gas griddle
Gas burner
Gas steam table
Gas 3 gal coffee urn
Electric coffee brewer
Microwave
Beverage refrigerator
Bump out self service coffee station with 6- 1 gal airpots
Service window
Commercial hood with baffles
Mushroom ventilator on roof
220/110 breaker box with 4 circuits
Cash register
HERE is a very detailed description written by the seller:
The trailer is a grumman truck body (approx 2002) that was converted into a trailer. Inside and outside walls are aluminum. 2 -40lb propane tanks are conveniently mounted on heavy steel pads on the rear bumper and are easily changed out. The regulator is automatic and changes from one tank to the other when empty. All gas lines inside are black iron for strength and better operation.
There is a 30 gallon fresh water tank inside (polypro) with a 115 volt demand pump which gives more than enough water pressure thoughout the system. 4 gallon hot water tank is electric and very fast recovery, however I rarely use it because it is easier to draw hot water from the coffee urn which always has about 6 gallons of hot water. The waste tank is under the truck and holds about 39 gallons. The 3 gallon coffee urn is propane and there is water piping directly to the fill point so you don't have to pour into it. There is a bunn electric coffee brewer also if less coffee is needed. There are 2 additional coffee pot warmers. 24" flat top griddle is propane. Deep fat fryer is propane. 4 ft. steam table is propane with several configurations of pans. Small ice maker is electric. Large microwave. 14 cu ft Refridgerator/freezer. Separate beverage fridge holds 125 cans. Small college fridge also. Cash register .
Commercial timer for deep fat fryer mounted on wall for 4 items. 220 v breaker panel wired for 220 v generator or receptacle or 110 receptacle. Flourescent lighting. Stainless hood over cooking area with baffles and commercial 2 speed mushroom ventilator on roof. Large stock pot burner next to griddle for soup, etc. Diamond plate aluminum floor. Front room has beverage fridge, storage, and access to unique 6-1gallon airpot bumpout for self-serve coffee outside. 3 outside roofs fold up over serving window, bumpout and in between. Lights outside, stainless shelf for outside condiments. New generator, 8,500 starting watts, 5,500 running watts included.
Call @ 601-749-8424 x 15
or Click on the "Request" link to E-mail for more information.
---