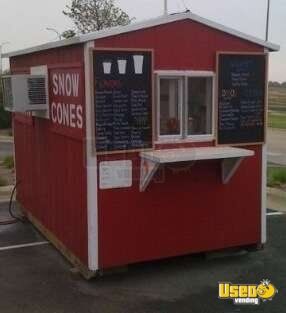 Snow Cone / Concession Stand on Trailer!!!
SOLD

Stand: 6.5' x 10.5', trailer 16'. Equipment is in good condition. Was previously approved by the city of Fort Worth as a mobile vendor. Stand is on a trailer that is included in the sale. You can leave the stand on the trailer for a mobile business or take it off for a more permanent location. Has window unit air conditioning and fire extinguisher. Has equipment and extras- be sure to see the details for these.
WAS: $10,350

NOW: $9,200. Highland Village, Texas.
CLICK on "MORE DETAILS" for PICS & FEATURES!!!


SOLD





More info...
FEATURES:
deep freezer
mini fridge
3-compartment sink with self-contained water
mini water heater
shelves for syrups and cups
cash box
two ice shavers (one block shaver, one cubed ice shaver)
front and side sliding windows for service
outside shelf for front serving window
2 stools
window unit air conditioner
wooden picnic table for your customers
Yellow parking lot
"speed
bumps" to protect your electrical cords and slow your customers down
large sign for the roadside that reads,
"snow
cones", and has an arrow pointing the way
Wired for electricity--just plug it in and you're ready for business!
Seller will share info about where they got supplies to run it.
---