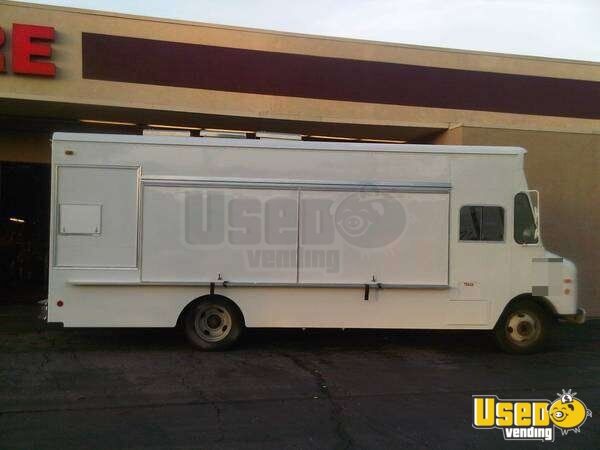 1987 - Grumman Olson Kurbmaster Dessert Food Truck!!!
This truck was designed to primarily be a dessert truck but can also be used to sell warm snacks.The kitchen was installed brand new in 2011 and was lightly used with non-greasy food. It runs on a 350 gas engine and a rebuilt automatic transmission. See details for complete list of equipment.


$82,500. California



More info...
This Grumman Olson Kurbmaster Food truck is used primarily for dessert, ice cream, and coffee.
Features:
Beverage Air Sandwich Prep Fridge
True Ice Cream Freezer
Bunn BrewWISE Single ThermoFresh Coffee Brewer
Onan Commercial QuietGas 7000W Gasoline Generator
220V Power outlets
Volrath 900W warmer oven
NSF approved ice bin for cold beverage storage
NSF approved 3-compartment sink
Separate hand-washing sink with soap and sanitizer dispenser
30gal tank for sinks and 15gal tank for coffee maker
1500W electric water heater
Custom hood unit over 220V cooking station
Wired for external and internal speakers, comes with ONKYO stereo receiver


---
Prior Equipment Questions...
How many miles are on the engine and is it original?
The odometer is stuck at around 280xxx, so we don't have an idea. We actually just replaced the engine with a brand new one
Where is the vent hood located? We did not notice it in the photos.
It is located right above the cooking station.
On the counter facing guests, it looks like there is a pastry case and something to the right of it. What is to the right? Is the pastry case dry or refrigerated?
It is a warmer oven. It is used to hold foods at temp. We also use it sometime as storage. It is dry.
Is there an AC system for the staff while working?
Can the hood be removed easily? I did not notice it in the photos.
You can access the engine through the cockpit.
I see it says a 900 w warmer oven. Is that just to keep food warm or will it actually cook items like a regular oven?
Just keeps the food warm. It's more of a holding oven, with visibility on both sides.
Have Questions? Have Questions about this item, its condition or features?