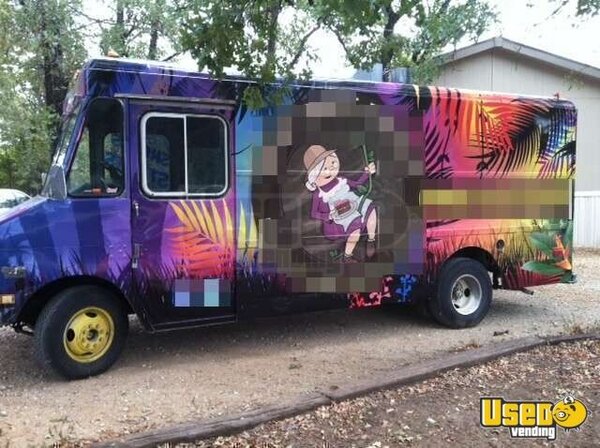 1979 - 18' Chevy Step Van Mobile Kitchen Food Truck!!!
This is a 1979 Chevy Step Van mobile kitchen food truck used for Burgers, Chicken sandwiches, Shrimp burritos, Gourmet hot dogs, Pulled pork sandwiches, Salads, Cake balls, and more. The kitchen was installed in 2012 and has many custom features. Has rebuilt engine with 300 miles on it, and automatic transmission. See details for equipment / features list.
$23,100
Texas
More info...
This truck contains a complete and functional kitchen with custom grill, cooler, prep table, sinks, cooling trough, hot-hold case, microwave and more. Has 300 miles on a newly replaced engine. All hoses, wiring and gauges are new. The kitchen was finished last September and has been used relatively little since then. It will need a larger exhaust vent, but works as is.
The package also includes a brand new generator and outside mount platform. NOTE: Wrap must be removed at time of sale- logos, etc are not included.


Includes: Chest cooler. Approx 60" x 36" x 40". Bar sink - 4 compartments w 1 separated for hand washing. Broan vent a hood. Custom grill. Approx 48" x 30" x 38". Cooling trough. Approx 60" x 20", mounted on wall. Prep table. Approx 60" x 30" x 48". Hussmann Toastmaster hot hold chest. Will hold 4 full size pans. Rival microwave. Dometic rooftop ac unit. Wire shelving. Marey on demand water heater. Water tanks: 10 gal, 30 galGrey water tanks: 15 gal portable, 45 gal. Champion 4000 watt generator. Brand new.


---
Prior Equipment Questions...
Does this unit have a serving window?
Why is the exst.steyem small
Bc I thought it would work.
where in Texas is this truck?
Can you provide the price of this truck if it's still available?
Yes, it's still available, the price is $23,100.
Have Questions? Have Questions about this item, its condition or features?