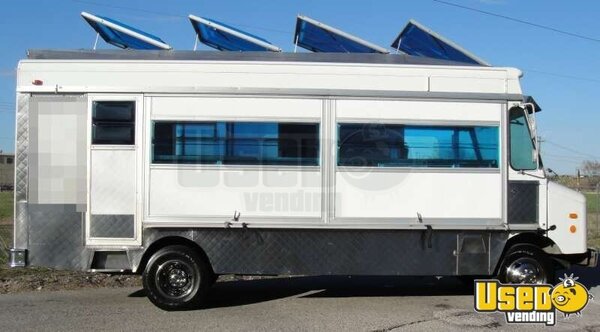 1998 - Chevy StepVan P30 Catering Food Truck!!!
SOLD


You can use this Chevy P30 food truck for nearly any type of food you like- tacos, burgers, soup, hot dogs, beverages, you name it. The truck has been well cared for and in in very good condition. It has a V8 5.7 gasonline motor with 87,000 miles on it, and automatic transmission. See details for equipment list and features.
$42,900. Texas


SOLD
More info...
See this equipment on video...
This is a hugely versatile food truck that is ready for you to customize and get rolling with- its full of nice equipment and being sold by second owner. This unit is fully self-contained and will runall equipment for 10-12 hours with no electricity needed, if charged overnight. Maintenance up to date including full tune up,new batteries.
· Stainless steel interior
· Aluminum plated flooring
· 3 sinks and Single hand wash sink
· Open shelves along both sides
· 24' x 41'' cooking grill (comal)
· Deep fryer with double basket
· Large cutting board
· Illuminated Inside/outside
Vent hood with filters & extractor with fans
· 2 concession wing doors, with 3 small servingwindows
· Deep/ large Pop cooler (exterior)
· Water tanks- approx 40 gallon for fresh waterand 10 gallon for hot water
· Waste water tank approx 60 gal
Mechanic Inspection sticker up to date
· Big, built in refrigerator inside for vegetables, meats, ingredients etc ·
Outside working refrigerator 33 x 43 for Sodas, milk, fruits, salads, cold sandwiches, Desserts etc
· Operated with propane: (steamer, grill, deepfryer, hot water tank for coffee and customers hand wash) ·
Heavy-duty multi battery system will power interior/exterior lights, exhaust fans, refrigerator inside and outside.
· 4 overhead pop up skylights with screens · Large storage area under all sinks · Built in propane tank with gauge ·

---