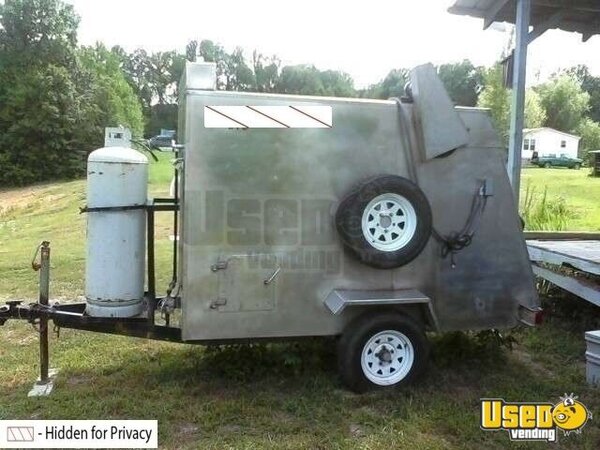 12' Corn Roaster & 1998 GMC Cargo Van!!!
SOLD


Seller used these 2 items together; they may be purchased together or seprately. The corn roaster can roast 250 ears in 28 minutes; can also be used for selling smoked turkey legs, roast potatoes, baked appled, etc. It's in very good condition. The cargo van was used for cooling and storage of supplies used with the roaster. It's in good condition. Equipment was used 4-5 times a year for the past 3 years. See details for list of equipment & features.

$7,000 for roaster; $3,600 for truck; $10,600 for all. Tennessee

SOLD
More info...
FEATURES:
Roaster: This machine roasts 250 ears of corn in 28 minutes. Up to 500 ears an hour. It also heats smoked turkey legs, roasts potatoes and bakes apples and whatever else you dream up. It has a 4 bay sink which is supplied hot water by a tank on top of the unit. The water is heated when the roaster is in use. Can easily be pulled with a small pick-up truck or SUV.
Holstein Mfg. model 306
Oven dimensions: 46" wide x 101" long x 60" high
Road dimensions: 66" wide x 144" long x 81" high
Weight: 2200 lbs.
Self-unloading automatic trip device
Stainless steel cabinet construction using 16 gauge outside & 14 gauge inside
1" insulation
Four individually controlled pipe burners... 320,000 BTU
Automatic thermostat & pilot light
54 stainless steel racks
Two 100 lb. propane tanks
110 volt, 2 RPM electric motor
Removable chassis for easy maintenance
2" trailer hitch & heavy duty jack
Turn signals & brake lights with flat four-way plug
Capacity: approximately 500 ears of corn per hour
Sweet corn & potato roaster is NSF listed.
Truck:
1998 GMC P3500, 5.7 liter, V-8 Cargo Van which has been retrofitted with an Omnicube food cooler. You plug the cooler in over night and it will keep your food cool while you are driving to your event. Both sides of the box are lined with wide shelves providing plenty of storage.




---