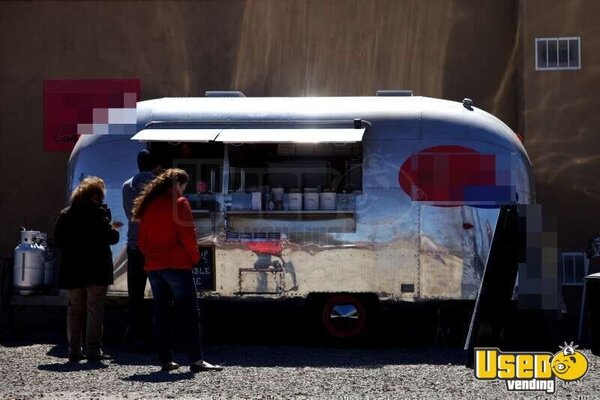 1963 / 2011 - Airstream Globetrotter Vintage Food Trailer!!!
SOLD


This is a cute, 18' x 7' 1963 Airstream travel trailer, converted into a food concession trailer. Most recently used for selling panini sandwiches, hot dogs, soups, salads, savory and sweet crepes.
$46,200. New Mexico
SOLD
More info...
This Airstream Globetrotter trailer was been entirely retrofitted in 2011. It has New axle, new wheels and trailer tires and hubcaps with very low mileage on them. Some of the undercarriage has been replaced. New profesionally installed electrical : 120 volts, 220 volt, 12 volt with 2 fuse boxes (100 amps total) and two external outlets with corresponding RV cables and strategically located outlets inside the trailer. Two GFCI outside outlets to plug outside electrical appliances or equipment. New Dynamics Intelli-power RV converter. Two new 6 volt batteries with box to operate lights on the road New extensive vintage looking light sytem, including LED lights in the service windows. All equipment has been used since Nov 2011.
Features:
Two new Fan-tastic fans
-New insulated plumbing with new 25 gallons fresh water tank and 30 gallons grey water tank.
New 2 compartment stainless sink, stainless steel hand washing sink.
New Superflow winterized water pump,
New Atwood water heater,
New propane 25,000 BTU's furnace.
Outside connection to allow plugging into outside water supply.
Two-30 lb (7.5 gal) aluminum LP tanks with regulator to provide for the water heater and furnace.
Custom designed pick up windows with hydlrolic struts and removable stainless steel pick up shelves.
New floor. Outside buffed and polished with clearcoat removed.
New insulation was put in inside the panels.
New laminated countertops and stainless steel table with plenty of storage, shelving and drawers.
New Summit undercounter stainless steel refrigeration (two-6 CF refrigerators and one-6 CF freezer).


---