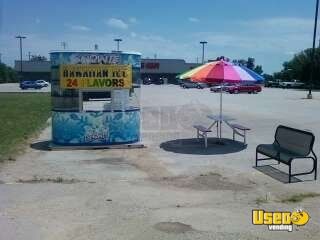 2006- 8 x 5 - Snowie Shaved Ice Turnkey Concession Trailer!!!
SOLD



This is a turnkey shaved ice concession trailer business. Use to sell shaved ice, drinks, etc. Lots of features, see details for list of equipment.

$13,200. Rogers, Arkansas.

CLICK on "MORE INFO" for PICS & FEATURES!!!


SOLD
More info...
FEATURES:
This turnkey package includes:
SNOWIE 8x5 building (wheels are removable so it can sit solitary OR be pulled like a trailer)
Also includes a deep freezer for your ice, (holds about 10 large bags of ice, between 100 and 130 lbs of cubed ice)
the snowie 1000 shaver, (I love this shaver!!!)
other supplies you need to start making money right away! (some flavors, bottles, etc)
It could use a new vinyl wrap soon, this one is starting to fade and peel in some places from a few years use but still operates perfectly and passes all health inspections. Has normal wear and tear from commercial use but we have maintained it in excellent working order. Has hot water and pump with FOUR sinks as required by health dept. Lexan shatter proof windows, 1 serving window, fiber glass counters, upgraded wheel kit with suspension, tanks are mounted as required by some health depts, easy to empty grey water tnk with the tun of a knob (we upgraded it), touch sensitive puck lights with 3 fade settings that get very bright, working air conditioner, snowie signage... (this unit does not have the windsock but it does have the misting sign - don't know if the mister still works, we really never used it much) Wired for 50 amp but could also be plugged into 110 if 50 amp not available.
---