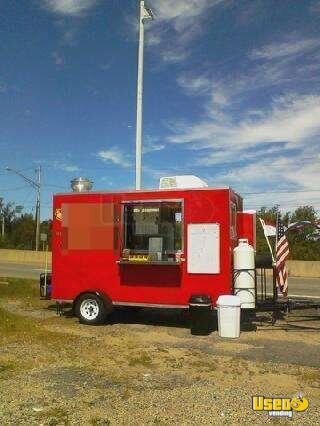 2011 - 12 x 7 Food Concession Trailer!!!
SOLD


Used for selling burgers, breakfast foods, hot dogs, Philly cheese steak, soups and more. Seller is original owner; trailer was used for 6 months and is in like new condition. Inside standing height 7'. See details for list of features & equipment.
$13,475. Massachusetts

CLICK on "MORE INFO" for PICS & FEATURES!!!

SOLD
More info...
FEATURES:
The trailer is 12' x 7' has a single axle with electric brakes.
11 cu in refrigerator/ freezer combo
100 gal propane tank. (Also the 7 gal gas tank is part of the generator.)
36" flat top
3 crock pots,
Instant hot water heater,
front window with screen,
two paper towel holders & a soap dispenser,
filtered exhaust hood and blower for the for the flat top,
7 gal gas tank.
8500 watt gas powered generator mounted to the back of the trailer. It comes with a hook up for 110 volt land line to run refrig at night. The land line will also run the heat tape to keep pipes from freezing in the winter. The generator will run all of the trailer with no problem at all, so you can use this trailer all year round.

NOTE: due to a recent freeze, the hot water heater and (2) faucets will need to be repaired/replaced. (This is a minor, inexpensive repair.)
---