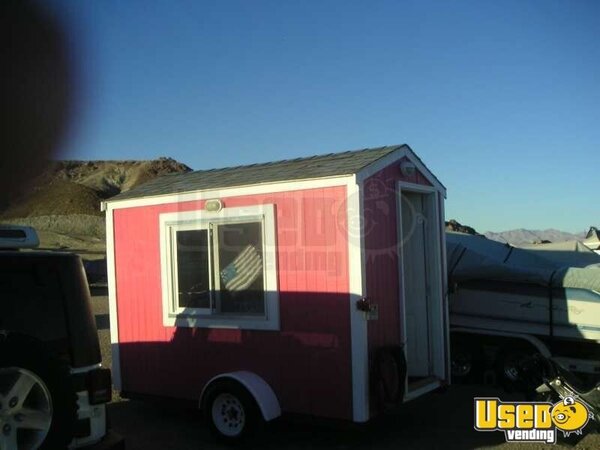 6 x 10 Food Concesssion Trailer!!!
SOLD



Trailer is about 5 years old; it is in like new condition. It was used as a Lil' Orbits Mini Donut outfit, but can be easily tailored for other venues. Seller used a Jeep Wrangler to pull it, so is fairly light. Has lots of equipment and features- see details for list of all included.

$6,900. Henderson, Nevada.
CLICK on "MORE DETAILS" for PICS & FEATURES!!!


SOLD




More info...
FEATURES:

50+ AMPS of Electric Power
Its Own Designated Independent 20 Amp Circuit.
Including 6 double electric outlets inside
Also, all the UL Listed converters to allow you to power the whole operation off of 2 grounded 110V
NSF Food Grade Stainless Steel 3 Compartment Sink
NSF Food Grade Stainless Steel Hand Wash Sink
Approx 40 Gal Water Tank to operate independent of hook-ups
Gray water holding tank. I believe its 1.5 times the size of the potable water tank.
BRAND NEW Water Pump
Hot Water Heater
Everything is hooked up with this sink system, ready to operate!!
You can hook up to City Water or be totally Self Contained!
Also Contains a Drain Hose that will drain straight into Sewer System (Where allowed)
Large Two Paned Sliding Glass, Screened Serving Window
Entire Inside Walls are covered in Food Grade Wallboard.
4" Double Bulb Fluorescent Lighting on Inside
Two Outdoor Lights.
One above the serving window
One above the door.
Brand New Kenmore 850BTU Digital Air Conditioner
This trailer is a dream to work in! It has an air conditioner in the summer and

The Trailer is wired for FULL power including a designated 20 amp
Circuit as well. This is especially terrific for equipment that draws a lot of juice. I ran a Lil Orbits Downdraft system and SS1200 donut machine Fryer on that and I NEVER blew a circuit. Additionally, I have all the UL Listed converters so that you can gradually downgrade the draw and plug this baby into power with two grounded 110V, this is especially helpful for events where they charge additional for a straight 220 hook-up.
---