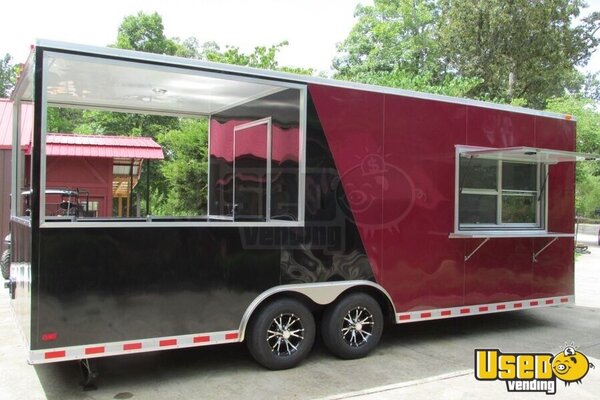 2015 - 22' x 8.5' Custom Built BBQ Porch Concession Trailer!!!
SOLD


BRAND NEW BBQ Trailer for sale!!!
This is a newly custom built concession trailer with complete kitchen and porch. As shown has a 6' reverse flow propane or wood BBQ smoker. Can smoke 100 lbs of BBQ. It has never been used and is ready to roll. See description for full details of equipment. The video shows a 2013 model trailer, but we are into 2016 models now. They look the same.
$46,995. Georgia

SOLD
More info...
See this equipment on video...
BBQ Porch Trailer fully equipped with lots of upgrades! It's brand new!
8' x 8 x 7.6' porch
8' x 14' x 7.6' box

*Electrical Package - 100 amp breaker panel w/20 spaces, 50 amp service, 50 amp motorbase plug, 30ft. 50 amp 6/3 shoreline cable, 13) 115v double receptacles, 3) outside recepts., 2) 4ft. T8 fluorescent lights, 1) round fluorescent porch light, 6) 115v switches

Rough estimate: weight for tongue 550 and 6500 on total weight.

*Plumbing Package- triple 10x14x10 Stainless Steel sinks, 1) 10x14x5 Stainless Steel hand sink, Pex plumbing, switched-3.2 gpm 115v on demand water pump, switched- 115v 6 gal. water heater, 32 gal. clear fresh water holding tank, exterior city/gravity fresh water tank fill hatch w/locking door , 42 gal. black waste water holding tank mounted under trailer w/ 3" slide dump valve.

* Lp Gas Package, 100 lb. propane tank w/wall bracket, Lp tank main shutoff valve, 650,000 BTU two stage regulator, interior appliance main shutoff valve, 3/4" supply lines, 3/4 flex vinyl coated appliance supply lines, pressure tested.

* Commercial SS Cooking Equipment- 24" LP gas countertop 3/4" flat griddle, 24" LP gas countertop 4 burner range, 35 lb. LP gas countertop double basket deep fryer, 6 ft. SS equipment stand, 6ft. SS exhaust hood w/3" standoff & lights, variable speed control 700-1900cfm aluminum rooftop upblast exhaust fan, 20 ga. Stainless Steel wall backsplash behind cooking area and 20 ga. SS wall backsplash behind smoker on porch area, 48"x24" SS work table

* 13,500 BTU rooftop air conditioner
* 23 cu ft. SS Commercial upright Arctic Air refrigerator
* 23 cu ft. SS Commercial upright Arctic Air freezer
* 10,000 Watt 50 amp low noise generator
* Custom built two rack Propane/Wood 6' reverse flow BBQ Smoker - mounted on porch area

2016 V-Nose BBQ Porch Trailer:Color - Brandywine & Black *Screwless exterior *8.5'W x 22'L *7' interior height *8' x 8.5 porch / 14' x 8.5' closed box *3' walls on porch w/36" x 36" entrance door *6'W x 3'H concession 2 - window w/glass & screens *36" entrance door w/flush locks *Aluminum walls/ceiling *Insulated walls/ceiling *2) 5000 lb 4" drop dexter axles w/4 wheel electric brakes * Mag wheels /15" radial tires *Spare tire compartment in porch floor w/spare *2) stabilizer scissors jacks welded on rear *Aluminum Tread Plate (ATP) floors *12' oc roof members/joist *12" oc floor porch members/joist *6' e-track on wall - w/refrigerator/freezer 2" e-track ratchet tiedowns *Vent wired & braced for A/C *1) roof vent *10 lb. fire extinguisher *8' aluminum 3 door base cabinets in v-nose for sinks. Triple 60" extended tube tongue *LED tailights

WARRANTY: The trailer itself comes with a three year manufacturer's warranty which covers manufacturer defects. All other equipment components have their own individual warranties which are separately covered by the respective manufacturer of each component.

No customization - comes as described only.
---
Prior Equipment Questions...
Wanted to see a picture of this trailer in the new colors
What new colors trailer availble is black n brandywine which is on the spreed sheet
How much meat can be cooked on this cooker
Is there a fire protection system such as an ANSUL system for the fryers?
What brand is the generator listed in the description?
powerland 10,000 watt 50 amp.